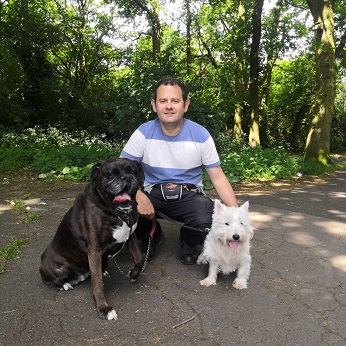 Claw & Paw's owner Brett Salcedo started the business after deciding to quit his almost two-decade career as architectural technician to make his love for animals a full-time job. Growing up in Australia Brett owned a variety of pets, including cats, dogs, buggies, cockatoos and turtles.
Mervenil Emiroglu
Mervenil's passion for animals' wellbeing is evident from her support of several animal charities. She also signs and follows petitions regarding animal welfare around the world.
Educated in Fine Arts and IT, Mervenil worked with Turner Prize winner Martin Creed. Apart from her contribution to the artist's creative work Mervenil was also looking after his chihuahua Jimmy. An art teacher in the evenings, she is delighted to devote some of her daytime to looking after your pet.  Mervenil is a loving owner of a British shorthair, Chanel.
Tilly's love affair with animals has been life-long as she grew up with a Bullmastiff and a Weimaraner, two cats, donkeys, a cockatiel, tropical fish, seahorses, terrapins, and various breeds of chickens. From the age of 11, she looked after her own cat Kater, and since then has had a Russian hamster, two rats, and now owns two ten-year-old cats Pea & Bliss.
Tilly has been doing pet sitting professionally for five years.
Previously, she was a print manager for a DVD production company in West London before freelancing as a graphic designer.
For enquiries please email us at info@clawandpaw.co.uk or phone: 07868758745 or simply fill out our
contact form